So hey, check it out: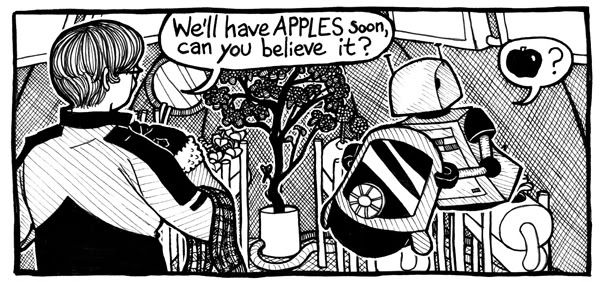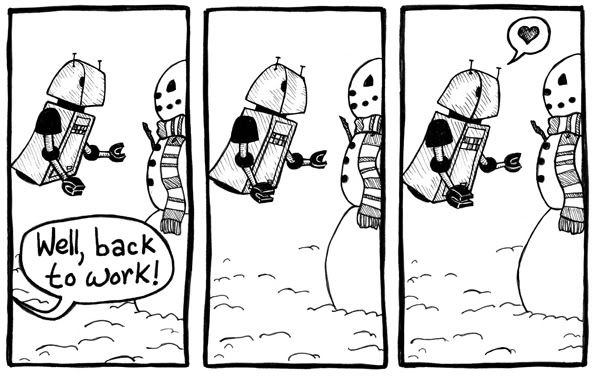 A couple of little excerpts from my CCS application comic; all complete except for the cover! (I have to think of a title before I can make that, and I'm having unusual amounts of difficulty.) It's very different from any of my previous work in terms of subject matter. The assignment called for "[a] minimum two-page comic story starring yourself, a snowman, a robot, the ocean, an animal, and a piece of fruit." Mine worked out to nine pages, set on a frozen ocean in an apparently peaceful post-apocalyptic world ... and as you can see, involves a snowman/robot romance. I had a blast making it (though it's taken weeks of near-hibernation to accomplish), and I'm thinking of printing it up and distributing it as a very short minicomic.
I'm currently working on some last bits of Turtle, in hopes that I'll be able to get that mini together very soon as well - should be posting some more comics by the end of the week, I hope! Also, I recently bought a ticket to
New England Webcomics Weekend
, which happens to be located practically in my parents' backyard this year. I won't be exhibiting, obviously, but maybe I'll actually have some work to trade; and if not, I'm psyched to see some of my
favorite
young and web-savvy cartoonists in person. The guest list is seriously incredible.
Lots of inking left to do, but in belated honor of National Coming Out Day, here's an illustration I've been working on here and there:
( onstage flirtation! )